Classic Wire Gate Carabiner
Item Details
|
Reviews
(
10
)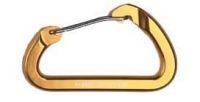 Manufacturer:
Trango



This item may be available at:
Description
You'll recognize these carabiner shapes as the same ones that the best climbers have been using on the hardest routes for decades. Cold forged, anodized bodies with hooded gate notches, and they're still easy on the wallet. Wire gate carabiners reduce whiplash, gate chatter, won't ice up and reduce the overall weight. Use them everywhere.
10 Reviews

Write your own Review


Read all 10 reviews
Review
Review by: brent_e, 2005-09-13
I love clipping these things. Great feel. Almost all my cams get these things.
Review
Review by: feanor007, 2005-08-02
amazing price on great biners. if they were near normal priced they'd be a 4, but less than $5 for this, that's a 5 in my book, seriously, you know they are good when the rating is roughly equivilent to the price (4.66=$4.75)!
Review
Review by: skinnyjim, 2004-09-07
Light, cheap and good wiregates... nice for racking things if you want something cheaper and bigger than those mini-lightweights. Oh and did i mention they were REALLY cheap.. 4.75 a piece (even cheaper when bought in bulk from gearexpress.com)
Review
Review by: tyify, 2004-07-06
If I had the money I would retrofit my entire rack with these biners. Very light and good gates. At 4.75 a piece not badly priced either!
Review
Review by: theying, 2004-06-09
This is a good all around wire gate biner. They are light, cheap and work well on my rack.