DMM Phantom Carabiner
Item Details
|
Reviews
(
1
)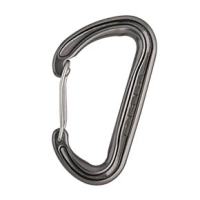 Manufacturer:
DMM



This item may be available at:
Description
From DMM website: The Phantom is not only an ultra lightweight carabiner, but we have also kept it large enough to be functional and made it super safe with 3 sigma 23kn gate closed and 9kn gate open strengths. The Phantom moves I beam technology to the next level by using a new alloy and a new gate material that shaves off the extra grams whilst allowing us to obtain strengths that other manufacturers can only dream about. However strength is only half the story and if a biner is badly designed - i.e. it has a big gate notch or a long flat bottom bar - then it is likely that at some stage the biner will be loaded in a manner whereby it could break. Thus all the standard DMM design characteristics are present: a steep, deep basket to guide the rope towards the back bar; a customised wire gate that pulls into the nose under load and reduces the chances of the rope unclipping itself when back-clipped; a gate notch that is as small as possible; a rope groove; a fully anodised finish and the 'even tension' gate. The weight difference this biner makes when used on a big trad rack is remarkable and is immediately noticeable. The Phantom sets the standard for lightweight carabiners without sacrificing strength or safety.
1 Review
The Best Ultralight Biner
Review by: wizard, 2009-06-23
I love these biners. If cost were not object, I would probably just carry these. Only 26 grams. The Nano may be lighter, but this is a larger more usable size with full 23kN strength and even 9kN with the gate open. The Phantom is about the same size as the BD Oz but stronger and lighter. Smooth gate action that is not too stiff, I think this is the ultimate, no-compromise biner. I racked up a full set of my friend's Phantom quickdraws, and it felt like I had no gear on at all. I think once you try these you'll never go back.