Nano 23 Carabiner
Item Details
|
Reviews
(
3
)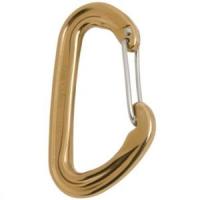 Manufacturer:
CAMP USA



This item may be available at:
Description
Theres lightweight and then theres the CAMP Nano 23 Carabiner. At a ridiculously low 23g thats less than an ounce, this CAMP carabiner makes just about everything else on the market seem like its made of iron. Although its relatively small size may take it out of the running for hard sport climbs, the weight saved on long alpine routes and multi-pitch trad climbs makes a huge difference.
3 Reviews
Good choice for racking cams
Review by: Rudmin, 2010-08-18
Basically I agree with everyone else. They are small and light and clippy.
Excellent biner
Review by: losinghand, 2010-08-16
I replaced all my racking biners with these. They are the lightest on the market, and while some people say they are too small - I've got larger hands and never had a problem with these at all. I could maaaaybe (only maybe) see the size issue on the rope-end of a quickdraw, but for the bolt end, and for racking cams, or general usage - I love them. And they can be found fairly cheap.
so light
Review by: west_by_god_virginia, 2009-12-12
great light biner for ultimate in weight savings. i have no problem with this guy, in fact love 'em. SO LIGHT! its the lightest on the market, omg did i mention how light it is?