Neutrino Carabiner
Item Details
|
Reviews
(
14
)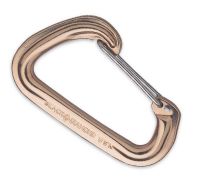 Description
Neutrinos excel on long rock and ice routes when weight is a crucial issue. The Neutrino's wiregate won't freeze shut on wet ice climbs and its smaller size actually makes gloved pinch-clips easy and fast. Neutrinos are perfect for climbing long multi-pitch routes when you need to travel light and fast.
Weight: 36 G (1.3 oz)
Color: Sage
Strength:
Closed Gate: 24 kN (5395 lbf)
Open Gate: 8 kN (1798 lbf)
Minor Axis: 7 kN (1574 lbf)
14 Reviews

Write your own Review


Read all 14 reviews
lightweight workhorse
Review by: bruceb, 2009-08-23
These may be THE best rope-end, light-weight wire gate biner. I think they clip better than the Metolius Inferno. Folks with bigger hands may prefer the Inferno. Inferno is 1g lighter. Nutrinos are also slightly heavier than the new OZ and other tiny, thin clippers, but these will be safer, more durable and easier on the rope if you occassionally take longer lead falls (not talking about just sagging on your gear).
Not well finished
Review by: bortoletto, 2008-03-31
Good size and weight were the drivers for me to choose this biner for trad climbing. I´m using them with mammut dyneema sling and the business is going well. The gate has a good spring pressure (not hard like those from mammut) and for this reason I also use it in sport climbing. But during the first look I recognized that it´s finish is poor. Several marks of tooling and rough edge at the fixed end of the gate does not mach if the price. In my opnion, they should cost around 5 dolars instead of 7. I highly recommend mammut element as an optional.
Review
Review by: gb3985, 2007-06-02
I have these on my cams and I don't really have any complaints.They feel small in my hands and its kinda tough to clip them,but I think that I'm just used to a bigger beiner.
Review
Review by: slimper, 2006-07-02
I reracked all my cams on Neutrinos. I have to say I've been very impressed, true they're not the lightest on the market. However, they seem like feathers compaired the the ovals they replaced.
Review
Review by: mgoodro, 2006-05-10
Not the lightest, but they have a good shape, solid feel, and decent gate opening for the size - unlike some ultralights (Camp Nano). They snag significantly less than my Trango ultralights. The colors in the rack pack are nice for those who match cam colors for rack management. They rack beatifully and are fine for sport if you have relatively thin fingers.