OZ WiregateCarabiner
Item Details
|
Reviews
(
1
)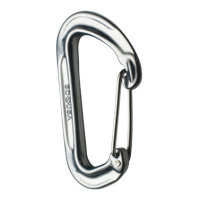 Description
Our lightest full-function wiregate biner, the 28-gram, hot-forged Oz saves weight without sacrificing an ounce of function—perfect for alpine missions and trad racks.
1 Review
Holy crap, that's skinny!
Review by: forkliftdaddy, 2008-08-27
This biner is too small for my taste, too thin. I'd never use it on the rope end, but it would be a nice gear side biner. That said, I wouldn't want to clip a bolt with it. I think the hanger would chew it up in a hurry.