Oz Carabiner
Item Details
|
Reviews
(
2
)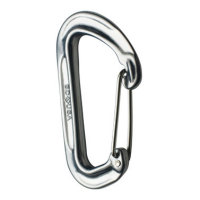 Description
Black Diamond's newest carabiner in the Oz. The name presumably comes from the 'biner's scant weight of 1 ounce (28 grams). The Oz retails for $8.00 and is just becoming available. Actually, most stores don't yet have the carabiners, so I had to purchase the Oz quick draws ($19) and take off the dog bone. First Impressions: The Oz is very light. It's about 2/3 the weight of the BD Hotwire, so it was noticeable when I exchanged the 'biners on my rack. The Oz is the same size as the BD Neutrino, a little bigger than the Camp Nano ($7.00, 28 g), and a little smaller than the DMM Phantom($12.00, 23 g). Oz in Action: I used the Oz on my "minimals" rack for a day of moderate climbing in Eldorado Canyon. My gear felt a little lighter overall. The biners were large enough to function well, and they have good gate action. Overall impression: I bought the Oz biners because I wanted something little weight and affordable, and that's what I received. The Oz is another quality product from Black Diamond.

2 Reviews
OZ
Review by: bruceb, 2009-08-23
I like the basice shape and clipablity. The gate action is excellent and probably one of the best I've tried. The ultra thin material on the inside edge near the nose is somewhat concerning. This should not be a problem as long as the biner never rotates in the draw during a fall resulting in the rope running across where the material radius is very narrow. I don't have any concerns using these on the gear end of the draw for clipping stoppers, bolts, knifeblades, etc.
Light, affordable, but a bit of a "me too" piece
Review by: qwert, 2008-05-14
The Oz is similar in size to the BD neutrino, and bigger than the camp nano.
Does what its supposed to do, but is nothing special. sure, its very light, but the specs (while surely safe and ok) are nothing special. The neutrino is a tad stronger (and not too much heavier) and somehow "feels" better (nicer to clip, more confidence inspiring).

To me it looks like BD at first didnt react to the whole trend for ultralight biners, because they had long ruled that field with there supreme neutrino, and when they realized that there where biners that where actually superior to it they had to act too quickly, building a biner that is just a tad smaller and thinner than the rest, but nothing special like for example the DMM pieces.

qwert