Phantom Carabiner - 5 Pack
Item Details
|
Reviews
(
1
)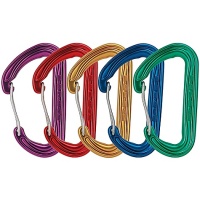 Manufacturer:
DMM



Available now at:
Description
Each of your carabiners may only weigh a few ounces, but multiply that by your fifty cams and youre carrying a rather rotund child in biners alone. The DMM Phantom Carabiner 5 Pack trims the fat to help increase your efficiency for demanding traditional and aid climbing. The Phantom uses DMMs I-Beam technology the spine resembles a steel I-beam and a lightweight alloy for strength and weight reduction, and the custom bent wire gate pulls itself into the nose when weighted. A steep basket and a slight rope groove keep the Phantom loaded along the spine. DMM anodized each Phantom in the 5 pack in a different color to match your cams or to add a little rainbow flair.
1 Review
Lightest colored pack
Review by: winglessangel, 2009-09-28
If you are looking for binner to mach your cams these are the lightest. Compared to neutrinos, yes they are more expensive, especially cause you have to buy the silver separately but the difference in price pays of when your realize each one weights 9 grams less them the BD ones and the phantom green is really GREEN.