Revolver Carabiner
Item Details
|
Reviews
(
12
)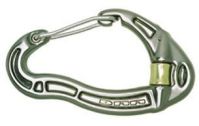 Manufacturer:
DMM



This item may be available at:
Description
30% OF THE ENERGY GENERATED THROUGHOUT THE WORLD IS SPENT ON FRICTION.
With this staggering fact in mind, we have abandoned convention, thrown away the rule book and approached the energy issue from a completely new angle knowing that weight is the enemy of the climber. The weight of a rope and friction that occurs in use make it the crucial issue. We believe we have redefined the carabiner by introducing the concept of a rolling component in the safety chain.
• Reduces rope drag significantly.
• Large rolling rope redius 5.5 rad (11mm dia).
• Roller action and size dramatically extends rope life.
• Extremely strong and light Hot Forged I beam construction.
• Innovative lightweight rescue, hauling and rigging applications.
• Meets CE standard EN 12275 for carabiners as well as EN 12278 for pulleys.
• DMM Patent pending design.
• Comes complete with 12mm dyneema express sling.
Designed for use at rope clipping end of a quickdraw, this extremely light and strong biner works mechanically in your favour.
What more can you ask?
12 Reviews

Write your own Review


Read all 12 reviews