Stainless Steel Wiregate Carabiner 4"
Item Details
|
Reviews
(
1
)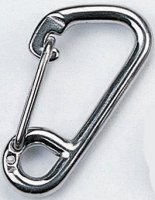 Description
316 (marine grade) stainless steel. Long-axis breaking strength: 4500lbs(20kN). Just under 4"(102mm) long, 13/16"(20.6mm) gate opening. The little hole is 5/8"(15.9mm) diameter. 135g.
1 Review
Heads Up.
Review by: hotgemini, 2009-10-07
These appear to be the same carabiners as are madly being removed from climbs in Australia as a number of them were found to have developed significant cracks and when pull-tested, almost all failed to make it to 20kn and quite a few failed at under 5kn.