Superfly Carabiner - Wiregate
popular
Item Details
|
Reviews
(
17
)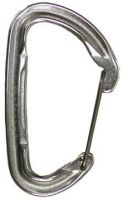 Manufacturer:
Trango



This item may be available at:
Description
Trango Superfly Carabiner - Wiregate Spring 2009 At 41 grams, the SuperFly Screwlock is the lightest locker available. Imagine: carry a handful and youll never have to rig up an anchor without lockers add them to the rope end of a couple of your draws and you can quit worrying about coming unclipped. Specifications: 30 gm Major: 24 Strength Minor: 7 Cross: 9
17 Reviews

Write your own Review


Read all 17 reviews
Superfly
Review by: duncanlennon, 2008-07-15
These are on the rope end of my trad draws. They are light and clip great. Because they are light they are slightly more prone to flipping around on the end of runners. However, they have never worked themselves into a cross-load position. I prefer these over Neutrinos and the Oz. Probably the best wiregate that isn't the Helium.
awesome
Review by: holyhell, 2007-05-20
these are the beat biner out there yes they beat the oz, moses, and nanowire because they are larger and stronger mix these with the helium's and shields and your set
superfly
Review by: moose_droppings, 2006-11-30
I've only got 20 of these champions of the liteweights on my rack for now, but more will be added. These are just as advertised, full strenght and full sized. If you need to shave weight, heres your means to do so without compromise.
LOVE EM
Review by: p0bray01, 2006-11-30
These are the new boys on the block for my rack. I have to admit they are soooo light when you first hold one you will be like "will this thing hold my bodyweight, nonetheless a fall?" Oh they hold..and hold well. I have not had the incident Crotch is talking about happen to me...although its not to say I wont look at them closer the next time I am climbin'
Review
Review by: hopper, 2006-09-09
Superlight (surprise), good clipping action, strong. Nice when paired with skinny Dyneema slings.