Supreme Carabiner
Item Details
|
Reviews
(
1
)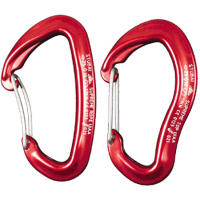 Manufacturer:
Stubai



This item may be available at:
Description
STUBAI SUPREME CARABINER: Weighing in at a mere 39 grams, the Supreme is one of the lightest full size carabiners in the world. Unlike other carabiners that just switch the gates for the top and bottom, the Supreme biners were specifically designed for their job. A deep, rope-swallowing basket with a wide gate opening allows for quick and easy clipping for the bottom biner. The top biner is designed to situate itself perfectly on a bolt and allows the biner to rotate without snagging or loading the biner wrong. This combination will give you not only one of the lightest combos, but one of the best.
1 Review
Review
Review by: qwert, 2005-10-15
although they are not really light, i believe that this biners are really great addition to my rack. You will not find a gate open strenght of 11 kN in this weight range that often, and also the handling and "feel" is pretty good.