Ultralight Straight Wire Gate Carabiner
Item Details
|
Reviews
(
3
)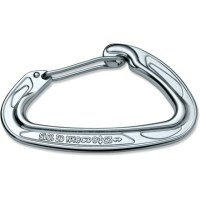 Manufacturer:
Mad Rock



This item may be available at:
Description
Great for racking gear and making your own quickdraws, the Mad Rock Ultralight carabiners are friendly on your wallet so you can afford to buy a whole bunch. Forged I-beam construction maintains a light weight without sacrificing size or strength. With its flat shape, the wire gate makes rope clipping smooth and fast. Great for all-around use and for making your own quickdraws for sport and traditional climbing.
3 Reviews
One of the best biners and the cheapest
Review by: wizard, 2009-07-21
I just received a whole set of these, and I have to say at $6 a piece they are an amazing value. At only 30 grams they are the lightest biner in its size, tied with the Trango SuperFly, which is about the same size. They are larger than most compact biners like the Neutrino, and feel much closer to full size. They have smooth gate action, and didn't notice any problems with the gates in the dozen I got. These have got to be the best wire gates for the money. I think these are one of the best biners out there even without considering the low price.
madrock straight wire gate biners
Review by: dpf128, 2008-04-28
Zero stars. Overall, the worse biners I have owned. The look and especially the shape are excellent, with the exception of the lower radius: tight for wide slings. The gates have quality problems. I bought a batch of the straight wire gate models when they first came out. About half of them had excessive lateral play in the gates; a few of the gates were so bad that you could UNSPRING the gate to the side of the notch/nose so that it was OUTSIDE of the biner body! After a lot of work/phone calls on my part and about 3 months of waiting, Madrock replaced them. I talked to the owner of the company and he said that they DO NOT TEST THE GATES FOR LATERAL TOLERANCES. Of the old & replaced biners only 2 have gates firm enough to not be scary; the rest of the gates have a very tired/weak feel. The reason I am writing this review is I recently had one of these biners unclip from my rope (long runner on a cam, luckily backed-up by other pieces) as I fell. It is my opinion that other Madrock straight wire gate biners, if similar to the ones I purchased, are dangerous in comparison to other makes/models. Be careful!
Redondo Beach, CA
Review by: baja_java, 2008-04-04
i've 9 of these silver straight-gate ones. no QC or construction issues as mentioned in one of the other reviews for the Ultra Light Bent. i bought them at Beach City Rocks in Manhattan Beach, the only local place that sold them at the time. the staff was nice enough to let me take a biner off each of the displayed draws and buy only the biners. had mine for about 6 months now. one little annoyance i've noticed is that the gate's spring action gets pretty weak when the gate is pressed open all the way back, much weaker than that of the other WC, Trango, and BD wire biners that i have. probably easily fixable by MR in the next edition of these Ultra Lights. again, just a minor annoyance. am happy with them overall