Wild Wire Carabiner
Item Details
|
Reviews
(
1
)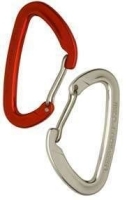 Description
Its incredible to think that wire gate biners only hit the market about seven years ago such is their popularity today. Although the Wild Wire was not the first it became the first really big selling wiregate karabiner in the UK and its popularity today 6 years on, all across the globe, is a testament to its design. Simple, light and elegant to use, its smooth action and Techwire gate makes clipping a joy and its open shape and bow back sits neatly in the hand for all uses. As a hot forged biner its strength is re-assuringly good and the Techwire gate - one the best solutions for a wiregate - means that it has a big gate open measurement for easy clipping.
1 Review
Review
Review by: nb_boarder16, 2007-03-07
Light but not too light, perfect shape and huge gate opening for a lightweight with only one major flaw. The nose on this biner is huge and sharp! Which means any type of webbing your trying to unclip gets snagged immediately. I've heard great things about this biner for sport routes and I believe it would be great for clipping rope but as a trad biner it is more trouble than its worth in my opinion (even for $5 a piece!). I'm exchanging these for the trango superfly, we'll see how that experience goes...