Xenon Lite Wiregate Carabiner
Item Details
|
Reviews
(
2
)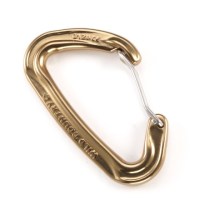 Description
The Wild Country Xenon Lite wiregate carabiner offers an appealing blend of light weight, high strength and easy handling. Ideal for steep bolted sport routes, trad climbs or frozen waterfalls where every gram counts. Hot forged, semi I-beam design offers an excellent strength-to-weight ratio, keeping the biner light without sacrificing strength. At 90mm long, the Xenon Lite is small yet still handles nicely to enable quick clips on difficult climbs. Tech-wire gate features a smooth action that clips easily hooded nose helps to protect the gate from opening when the biner rubs across rock.
2 Reviews
Nice biner but not durable
Review by: caughtinside, 2010-12-03
Maybe durable isn't the right word for it... I bought 18 of these 6 months ago, and already two of them have funked sticky gates. It's too bad, these were my favorites. They are way lightweight, have a protected nose, and clip well. I don't like the superflys and the moses because the nose isn't protected, and these were lighter than the neutrinos, my old standby. Love this biner but it just doesn't hold up.
Clips great
Review by: abobo123, 2010-01-27
Nicest clipping biner on my rack (nuetrinos, elements, hotwires) Clips so easy, it almost makes me doubt it's security, but i've never had it unclip, so.... It's light, it's hooded, clips good, pretty cheap ($7-8 retail?)