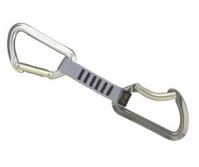 Manufacturer:
DMM



This item may be available at:
Description
The Aero Quickdraw is a good all round draw. It features a plain gate Aero at the top end and a bent gate at the bottom for clipping the rope. The draw comes with a 12mm dyneema tape - a budget price for a top quality quickdraw.
2 Reviews
Nice Qd
Review by: dj69, 2007-12-19
I got these this summer for 13$ a peice..they way the same as the petzl draws, the only thing is they're not keylock which can be a pain to clean overhanging climbs with. They're quality draws but there not worth more than 13$
Great
Review by: Climberguy88, 2007-08-07
Cheap and effective (not $25 only $14). People have told me they are heavy. I don't really notice or care. Best thing I've noticed about them is I've never seen anyone else with them so there's no confusion about your draws when you're in a big group.