Aero Wire Quickdraw
Item Details
|
Reviews
(
2
)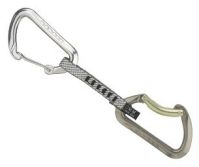 Manufacturer:
DMM



This item may be available at:
Description
The DMM Aero Wire Quickdraw uses two anodized Aero Wire carabiners and a Dyneema dogbone to create a multi-functional and lightweight quickdraw set for sport or trad climbing. DMM engineered the Aero Wire to make sure the gate meets seamlessly with the back for fewer snags and cross-loading. An internal rubber retainer in the sling keeps the rope-side biner stable for clipping, and the durable anodized construction means you can leave this draw hanging on your project for weeks at a time.
2 Reviews
DMM Aero wire
Review by: Peterst_dk, 2007-09-02
These qd's feature what I like. An easy clipped wire gate for the pro, and an easy clipped bent gate for the rope. I really like the dyneema too. Not too stiff and not too soft.
Review
Review by: carl_mogensen, 2006-05-29
I haven't been lead climbing a lot as I'm only a newbie! But I recently bought six of these and I find them nice and light... ergonomic and also easy to clip into. They're not the cheapest (at least not in Ireland), but they're good - you get what you pay for. The ones I got were all the short size and I've found that I need some longer ones... so I'll buy them soon. If you get these - get four short and four long.