Dirtbag Draw - Package of 6
Item Details
|
Reviews
(
1
)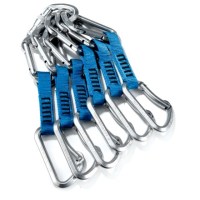 Description
Get geared up without breaking the bank when you purchase this package of six Omega Pacific quickdraws. Cold-forged, bent gate carabiner offers slightly more gate opening than the straight gate to make clipping the rope quick and easy. Classic straight gate carabiner handles easily for smooth clipping into bolts and trad gear. Asymmetric D-shaped carabiners fit comfortably in your hand. 10cm nylon sling is sewn snugly around the bent gate carabiner, helping to prevent the biner from shifting positions while clipping the rope. Sling offers a stout 22kN breaking strength.
1 Review
good starting quickdraw
Review by: redcannon31, 2010-02-19
This is a good quickdraw to get if you are starting to move into lead climbing. I bought these when I took a rock climbing class and they worked very well. The only draw back to these quickdraw is that the weight is a bit more then other quickdraws but these ones work well for me and will bye more in the furture.