Helium Wire 10cm Quickdraw
Item Details
|
Reviews
(
2
)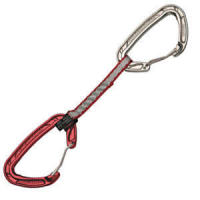 Description
The Wild Country Helium Clean Wire Quickdraw pairs two ultralight carabiners with an ultra-strong Dyneema sling for a burly, functional package that weights only 2.61oz. This quickdraw has full-size carabiners for easy clipping on hard sport routes, and the freeze-proof wire gates make them an excellent choice for use in the mountains. If you want lightweight draws but dont want to sacrifice performance, then the Wild Country Helium Clean Wire Quickdraw is ideal for you.
2 Reviews
Awesome draws!
Review by: Valarc, 2007-05-22
The no-snag design of the helium wiregate is pure genius. These biners are amazingly light and strong, and the protected hood not only stops snagging but makes the gate less likely to open accidentally. The draws have the rope end anodized red, which is a nice touch on an already outstanding product.
Review
Review by: hopper, 2006-09-09
The sexiest draws out there. Super strong, super light. 15cm and 20cm lengths are floppy enough to prevent pro from walking.