LiveWire Quickdraw - Straitjacket
Item Details
|
Reviews
(
2
)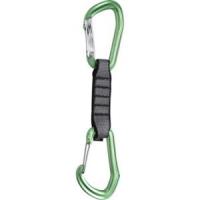 Description
Black Diamond took its high-performance Dynotron and LiveWire carabiners, slapped a 12cm vari-width dogbone between them, and officially called it the LiveWire Quickdraw. Unofficially, we call it the smoothest clipping, most badass-looking draw weve seen in years. The wiregate biners draw-friendly surface and Black Diamonds Straitjacket a rubberized dogbone insert that holds the biner in place keep everything properly oriented and ready to clip when your forearms are gassed, and the hooded nose protects the wire gate opening when you pitch off at the crux.
2 Reviews
YES!!!
Review by: Kyle10376, 2010-09-15
Spend the money and get these. great clipping, great handling, best for cleaning. nothing I've used compares. I think I've panicked on these things and frantically clipped them without ever touching them(or so it felt). Also, the dogbone is big enough for the occational french free action (yes, I am a big baby sometimes.) Honestly, suck it up, spend the money, carry the extra weight and be happy.
LiveWire QUickdraw
Review by: crackedpiton, 2009-09-13
This quickdraw is absolutely amazing. I have tried them all, and nothing compares to the LiveWire. Not even the Petzl Spirit Express. The handling and clippability on this draw is unparralelled. They may be a little pricey, but they are worth every cent.