Phantom Quickdraw
Item Details
|
Reviews
(
1
)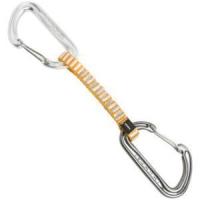 Manufacturer:
DMM



Available now at:
Description
With two wiregate carabiners and an ultralight Dyneema sling, the DMM Phantom Quickdraw takes on any rock or ice pitch you encounter. This 2-ounce quickdraw provides easy clipping from a sketchy stance, and its burly I-beam construction provides 23kN of strength if you blow it. Neither the Phantom Quickdraws wire gates or the Dyneema sling will freeze in cold weather, which makes this a great choice for winter use.
1 Review
The Best Draw in Existence
Review by: wizard, 2009-07-18
These draws are insanely light. I racked up a full set and felt like I had no gear on at all. The difference was astounding. The compact neutrino sized biners are the lightest for the size 26g and still 23kN strong. I know some people don't like compact biners, but I think they just need to be given a chance and you'll never go back. Good gate action and incredible quality. I can't think of a better draw made. Pricey though you can find them for a discount for a full set.