Quicksilver Quickdraw
Item Details
|
Reviews
(
16
)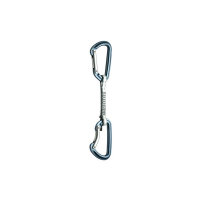 Description
The classic straight/bent set-up, the Black Diamond Quicksilver Quickdraw has a Quicksilver straight gate top biner and a Quicksilver bentgate bottom biner. It comes equipped with a 10 mm Dynex dogbone with the Straitjacket System.Black Diamond Quicksliver Quickdraw Specifications: WEIGHT: 106 g 3.7 oz 12 cm / 108 g 3.8 oz 18 cm COLORS: Ink Blue with Ink Blue Dynex.
16 Reviews

Write your own Review


Read all 16 reviews
i love em
Review by: AltitudeJunkie, 2008-09-09
i love these draws. i can see how they might get a little heavy, but the gates open and close really smoothly and have just the right amount of springiness. they feel good to clip. i sit around and play with mine on stormy days at the red.
Black Diamond Quicksilver2 Quickdraws
Review by: omalavet, 2007-01-24
this are great quickdraws lightweight the dogbone it really small and the bent gate helps for cliping on the rope perfect.. buy it!!
black diamond quicksilver
Review by: leadon451, 2006-12-22
i would give it 3.5 stars if i could. good first draw. got mine on sale at gearexpress.com for $12. the spectra does seem to flip around alot, and the gates are notched, but overall it is a good draw for the money.
Black Diamond Quicksilver2 Quickdraws
Review by: yesitsdrew5310, 2006-12-20
This is my first set of draws, and I love them. I do agree that the straight gate biner does flip a bit, but its nothing that bugs me. All you have to do is flip them to the correct way before you throw them on your gear loops.
Review
Review by: kane_schutzman, 2006-09-29
I have 15 of these in the 18 cm length and I love them. The biners flip allittle do to the skinny webbing but this is not a problem for me. Anyways, for the price and what you get, these are perfect.