Steelkar Express
Item Details
|
Reviews
(
2
)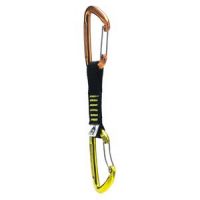 Manufacturer:
CAMP USA



This item may be available at:
Description
This is a double wiregate quickdraw made by camp. Short sling and a rubber thingy to keep the bottom (slightly bent wiregate) biner in place.
2 Reviews
Not recommended
Review by: JAB, 2008-10-09
These are really average. The gate action is poor and the nose snags on everything.
Review
Review by: overlord, 2004-05-26
This is an average wiregate quickdraw. The gates are kinda hard to open and becasue of that i prefer cassin wiregates. The sling looks kinda cheap. the good part is its not too pricey.