SuperFly Wire Gate Quickdraw
Item Details
|
Reviews
(
1
)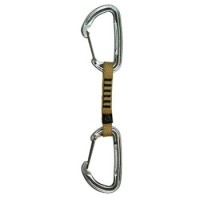 Manufacturer:
Trango



This item may be available at:
Description
At just 69 grams, the SuperFly Wire Gate QuickDraw weighs less than some of your old-school ovals. Includes 2 SuperFly Wire Gate carabiners and a 4'' UltraTape Speed Draw. SuperFly QuickDraw: includes 2 SuperFly's and a 4'' Ultratape.
1 Review
Cheap light great.
Review by: hotgemini, 2007-08-29
First a bit of a caveat, I'm definitely a lightweight wiregate fan, my main draws are neutrinos and I bought another 12 of these superfly draws to pad out the numbers, and I'm now counting the days until I can afford a set of DMM phantoms.

I use these interchangably with my neutrinos quite happily, they clip similarly, the superflys are noticably lighter but its not major. I love the narrow nose, they'll go through an anchor chain where many other carabiners won't (hence I've also got half a dozen superfly lockers). They appear to be a bit softer than my neutrinos and have knotched up and worn a bit more, but at the price difference its not something that I'd lose sleep over, I do wish they anodised at least one carabiner off the quickdraw.