Tru Clip
Item Details
|
Reviews
(
3
)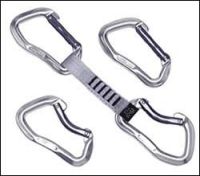 Manufacturer:
DMM



This item may be available at:
Description
One biner, any job. Bolt clipping, long multipitch routes, ice climbs, this biner does it all. Not too big, not too small and the "S" back fits the hand
beautifully. Your desert island biner.
• "S" back shape fits the hand.
• Great all around biner.
• Perfect size.
3 Reviews
Handles excellently
Review by: ja1484, 2007-03-01
For my money, the perfect sport draw except for one thing: No keylock nose. If it had those, it'd be a 5. The gate action is excellent, the biner is shaped perfectly to be easily handled, and the carabiner strengths are quite high, even open gate (9kN). Proof positive that the "innovations" of recent years were nice thoughts, but not desperately needed.
Review
Review by: p0bray01, 2005-11-05
Basket is huge, and it does sit wonderfully in your hand...clipping is smooth, I just wish they had keylock noses. Cleaning these are a B##$%, Matter of fact I cut My hand trying to clean one last week. I use them for top rope anchors at the local sport climbing crag, they are totally the strongest draw out there. I personally will not buy anymore, I like the BD Dynotrons the best. Overall a good draw though.
Review
Review by: slcbongmaster, 2005-09-11
The truclip sits perfectly in you hand, it is light as well as strong...25kn buy the 10 pack from pagan gear.com and save $$$