Wild Wire 10CM Quick Draw
Item Details
|
Reviews
(
3
)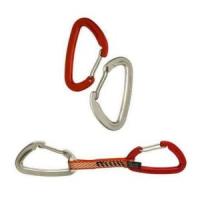 Description
Use the versatile Wild Country Wild Wire Quickdraw for hangdogging on your overhanging mega-project one day, and haul it up four pitches of clean granite slabs the next. The two wire gate biners and the Dyneema sling make for a lightweight all around draw thats as comfy in a bolt hanger as it is clipped to a Camalot.
3 Reviews
Review
Review by: sporto, 2005-12-23
so smooth to clip and super lightweight!!!!!!!!!!!!!!
Review
Review by: sioux, 2005-09-30
I've used these for sport climbing now for about 3 years. I've never had any kind of issue with them. I really, really like the wire gates and the low weight.

t
Review
Review by: mrhungus, 2004-07-01
They work good and seem to be light-weight. What else can I say?