Super Chalk 5 oz.
Item Details
|
Reviews
(
26
)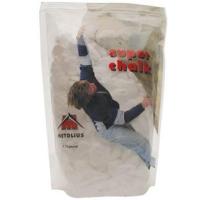 Manufacturer:
Metolius



This item may be available at:
Description
Metolius Super Chalk is the 1 selling chalk in America Metolius adds a safe drying agent is added to the highest-quality magnesium carbonate for maximum sweat absorption and friction, plus, the resealable plastic bag keeps chalk off of everything except your hands
26 Reviews

Write your own Review


Read all 26 reviews
Too much of the drying agent.
Review by: AZrockclimber1988, 2007-04-08
It only took one use to find out that I could not use this chalk on long climbs. After doing about 150 ft. of climbing, I could climb no longer with my hands in blisters.
Very very dry
Review by: Anthea, 2007-04-03
This chalk is fantastic for people who have naturally moist hands - the drying agent works a treat. However if you have naturally dry skin, you may find it a bit too drying, and may get cracks and flakes developing in your skin. Whichever skin type you are, always have some light moisturiser in your climbing bag for use after climbing. The fine powder and drying agent means you don't use as much as you may do normally. This chalk really does provide maximum friction.
Sweaty hand
Review by: ItsStang, 2007-03-28
Now my hands sweat a ton when I climb. I started out with the White Gold from BD but it just didn't do enough for me. So I switched to this stuff and I like it a lot. The only thing is that you really need to wash your hand after climbing to minimize the dried out skin you can get with this stuff, lotion will help too but not really needed.
This is the best around
Review by: krosbakken, 2007-02-28
The extra drying agent is really what i need when i climb so this stuff is the best chalk for me. Love it.
1/4 lb. Bag
Review by: kennoyce, 2007-02-21
I love this chalk, I have very sweaty hands, and I love the drying agent in this chalk, its all I use. no other chalks I have used last as long, or keep my hands as dry.