Chalk Bag
Item Details
|
Reviews
(
1
)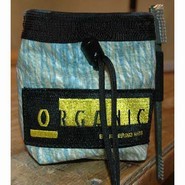 Description
The Organic Chalk Bag is a stylish, durable, bag that every climber must have for all types of climbing. Made with lots of thought and even more field testing, the Organic Chalk bag is deep enough for trad climbing and wide enough to carry plenty of chalk. The draw cord closure is positioned to the highest possible position making sure that chalk doesnt escape or spill. Each bag is hand made and has a unique design found on no other bag. Bolds, solids, screen printed, or accent colors are available now.
1 Review
Organic Hits a Home Run again!
Review by: jhernand, 2009-06-08
I cant talk highly enough about this company, product, and person running the show over there. The chalk bag is great. all the features are great. Pumped out and needing a chalk up at the crux move... you dive your hand in the bag and relief... support the little guy and buy local! Organic all the way!