Medium chalk bag
Item Details
|
Reviews
(
2
)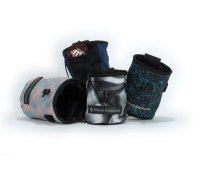 Description
"Hold your white gold in a Black Diamond Chalk Bag and on-sight every climb you try. Holding anywhere from half to a full block of chalk, our bags are available in three sizes and have pliable rims, toothbrush holders and chalk-tight closures. We've reinforced them at all stress points for max durability and lined 'em with Retro Pile™ that doesn't trap chalk behind the lining. Pick between solid colors or wild prints. Three sizes; solid or print patterns Reinforced at stress points for added durability Pile lining is open at bottom so chalk is not trapped"
2 Reviews
ok
Review by: usef, 2008-08-26
great feel inside but outside is boring
Review
Review by: christopherjay, 2003-06-28
I recieved this chalk bag when I purchased the Momentum AL package from Black Diamond. For a first chalk bag it works just fine. But after using it for a few months I realized it may be a bit too small for me now. I sometimes have a hard time getting my hand into it at critical times. It's fine fro bouldering when I have it resting on the ground, but when climbing and I have it hanging behind me, it tends to get awkward when I'm chalking up. It also doesn't close as tightly as I would like.
Next chalk bag will be bigger and close tighter.
Otherswise, good backup chalk bag!