Chalkbag
Item Details
|
Reviews
(
5
)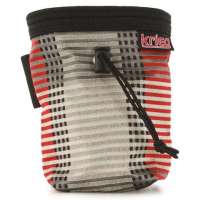 Description
Description of Krieg ChalkbagKrieg started sewing chalkbags out of the trunk of the car in Miguels parking lot at the Red River Gorge. Slowly the friends made out climbing helped find homes for the bags in local outdoor stores and climbing gyms throughout the country. While Krieg has outgrown the car, with a few close friends Krieg still makes their bags in their small sewing shop in the southeast. Krieg knows everyone uses their chalkbag differently. For some, its the first place you reach when youre sketching far above your last piece. For others, a dip into the chalkbag is routine before leaving the ground on a cool new problem. From hemp to hot pink sequin, Krieg makes chalk bags for all occasions. They have made chalkbags from 1000 purses, stuffed animals, and underwear. They will sew just about anything if you have the cash to pay for it. FeaturesHandmade chalkbag... every bag is different
5 Reviews
too small
Review by: Sooby, 2010-06-04
Have had it for a lil over a year now. Forgot my bag at home and used my friends Prana bag today... Now im online looking for a better bag. I had no idea I have been struggling getting my hand in and out of this bag. Opening is too small.
Krieg chalkbags
Review by: iceravines, 2007-05-19
A custom chalk bag with a side loop for your brush,felt interior and cool graphics...hand made & made here in the US. They do make them anyway you want and out of what you want so if you want a special bag they make it....your way.
Review
Review by: bouldering_badass, 2005-05-19
These bags rock. I had to exchange the original one, it was too small for my gianormous hands and a chalk ball. I got the bigger upgrade and it was a dream. It has a ton of room, stiff webbing rim, super plush lining, and came with a belt. The best part is it's not only a chalk bag, but the larger size stands on it's own like a chalk pot. Excellent craftsmenship, I'll definetly be getting another when this one gets ripped to shreds.
Review
Review by: mped, 2004-12-03
Updated Review: It works. It is too tight, I can barely chalk my hands. With a new chalk ball I can only chalk my finger tips. Durable, but too small.
Review
Review by: russman, 2003-04-18
Big opening. Deep bag. Stays open and also closes great and tight. I have one so far and am sure to be buying more