Cocoon Clic-Clac
Item Details
|
Reviews
(
2
)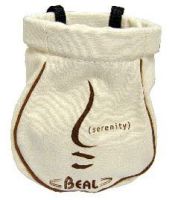 Manufacturer:
Beal



This item may be available at:
Description
Beal puts an end to tediously undoing the chalk bag string. Thanks to the new patented [url=http://www.magbag.com/prodmenu.htm]O-Ring Closure System[/url] opening the cocoon with just one hand is instantaneous. You can now hermetically close your bag in mid-route, again with just one hand. And once opened, itís big enough to take your entire hand. The bag is fleece-lined and available in a large variety of colours.
2 Reviews
Nice with some minor flaws
Review by: mumba, 2010-01-16
This bag is REALLY nice. Easy to open and close with one hand, lots of space but not bulky. I like to fasten my chalk bags to my harness with a carabiner, the stiff bent design was a little bit tricky to do this with but it worked fine with 2 small carabiners. Once fastned on the harnes the stiff design makes the bag keep its place never dangeling or moving. I would have liked some fleece inside to keep loose chalk in. The quality was ok, It lasted me 2 years but it easy breaks the opening when ramming it down your pack.

+ Excellent design
+ size
- difficult to attach to harness
- Breaks if you are not careful when packing your gear

Would I buy it again? Yes


I know, you think it's just a chalk bag....
Review by: mephistopheles, 2007-01-18
This is the BEST chalkbag out there. Easy open/close ring, until your pal breaks it trying to open it the wrong way....now I'm looking for a replacement