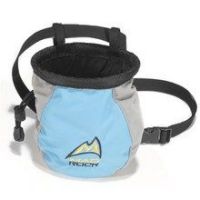 Manufacturer:
Mad Rock



This item may be available at:
Description
This lightweight chalk bag with fleece liner provides easy and convenient storage of climbing chalk. * Measures 4.5 inches in diameter and 6 inches deep * Stiff, easy-access rim gives you convenient access to your chalk * Bag comes complete with its own nylon belt and tooth brush holder * Comes in assorted colors
4 Reviews
Koala
Review by: MrBizarro, 2009-02-23
This chalk bag is nice and small, and very light. If you use chalk balls/socks/whatever, you'll want to use smaller ones so there's plenty of room in this chalk bag for your hand. If you have huge hands, you should try a bigger chalk bag. It comes with a waist belt, so it doesn't matter whether your pants or harness has a loop for it. You could even use it naked, I guess. It's very soft and squishable, so it's easy to pack and you won't notice it if you land or sit on it.
Chalk Bag
Review by: crewdude, 2007-05-03
Chalk bag's a chalk bag... but I like the shape and the size of the inside...
Koala
Review by: ItsStang, 2007-03-28
I like this bag a lot, a point counter point to mgoodro, is that I like the contoured bottom, it is much nicer to have that on your back when you climb because you always know where the bulk of the chalk is, you don't have to go fishing at all like you do with the big bottom ones. The pouch on the back is nice for a little cash and your gym cards.
Review
Review by: mgoodro, 2005-04-27
Almost perfect, this little bag is light with a wide mouth and functional straps. I don't miss having a pocket, I wouldn't carry my keys (or any other uneccesary weight) in my chalk bag anyway. My only complaint is lack of a flat bottom to keep it standing on the ground.