Mid sized chalk bag
Item Details
|
Reviews
(
3
)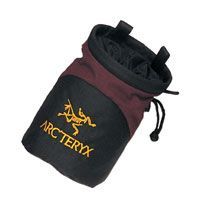 Manufacturer:
Arcteryx



This item may be available at:
Description
Design:
The classic cylinder with a micro suspended rim. The ideal size for chalk balls.
Features:
* Fitted for chalk balls
* Suspended rim
Materials:
* Nylon
3 Reviews
Review
Review by: 09kams, 2008-09-25
Holds chalk well, the seal is decent, however there is still a slight dusting in the trunk of my car. A drawback however, if you choose not to use the belt, a beaner will turn it sideways, making access of both hands tricky. the plastic clips on the belt break easily, but that is generally expected. also, after a crashpad fall, it generally sends up a cloud of chalk, that could otherwise be used climbing. i have to take care with my falls for fear of loosing chalk
Review
Review by: andrewbanandrew, 2005-03-13
It holds chalk pretty well, and I have an easy time getting it on my hands...other than that the only thing I could wish for was a better seal when closed, and maybe a grommet facing 'out' for use with a carabiner on a harness, as attaching this thing with a carabiner on my harness (BD Momentum) always flips it sideways...
Review
Review by: new2climbing, 2004-04-06
Good product. Keeps the chalk nice and dry. Only complaint I have is that the opening is a bit small for the size of the bag and when hanging on harness it often ends up hanging in an awkward position to reach into. Very durable and takes a lot of abuse though which makes the drawbacks easy to deal with.