Special K Chalkbag w/ Belt
Item Details
|
Reviews
(
1
)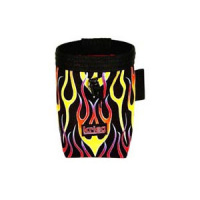 Description
Most popular of Krieg's bags due to the limitless possibilities for exterior fabrics.   It's nice and deep, seals tight with a drawstring closure, and has a 2 inch toothbrush holder.  The inside is lined with Polartec fleece, and it comes with it's own fastex belt.  
1 Review
Review
Review by: flatstateclimber, 2005-10-30
I needed a chalk bag, but I wasn't excited about a boring, run-of-the-mill bag. I talked to the manager at the gym I climb at, he called Krieg and ordered one for me. A bag made with salvaged camouflage from a pair of German army surplus pants showed up. Drawstring is effortless, the toothbrush holder actually can hold 2 brushes, and I can clip it on with a biner or use the belt. Plus, the camouflage exterior is the only one I've seen like it! Now if I can just remember where I set it down....