Survivor Chalk Bag
Item Details
|
Reviews
(
1
)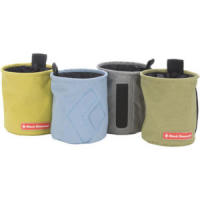 Description
Black Diamond Survivor Chalk Bag Spring 2009 Designed with a unique one-handed closure, the Survivor Chalk Bag by Black Diamond is built from durable Cordura pad fabric. This cylindrical chalk bag comes with a webbing belt and tricked-out neoprene brush slot.
1 Review
Keeps chalk IN
Review by: laroers, 2009-11-11
It's simple with all the necessary features and unlike many bags, it seals tightly enough to keep your chalk from escaping. You can simply close it and toss it in with the rest of your gear without getting chalk all over everything. Other bags I've used allow a little to escape which gets to be a problem over time.