5.5mm Titan Dyneema Accessory Cord - Package of 20 ft.
Item Details
|
Reviews
(
3
)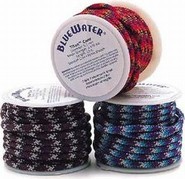 Description
Ideal for slinging chocks, nuts and other pro, BlueWater 5.5mm Titan Dyneema accessory cord combines high strength, low elongation and light weight. Titan Dyneema offers greater abrasion and cut resistance than nylon. When tying loops, its recommended to use a triple fishermans knot.
3 Reviews
Review
Review by: griffin, 2006-08-13
Pretty much wire. Light though.
Review
Review by: rockmaninoff, 2005-08-11
This product is a wonder of the modern world. I used Titan/Spectra to sling my old Chouinard hexes. Incredibly strong, titan is also incredibly expensive. Tie with a triple fisherman's to avoid slippage. From what I have read, Titan should not be used for prussik loops, and I still prefer 8mm cord for my cordalette.
Review
Review by: jstp, 2004-11-28
A lightweight alternative to traditional bulky cordalettes. Titan cord is way lighter, and way more compact than 8mm or other larger cord, while retaining the strength of fatter strings. The main drawbacks of Titan cord are its cable-like stiffness (which never seems to really go away, only abate a little), its susceptability to hot temperatures, and price (around 1.15 a foot).
Unlike other thin high-strenght cords, Titan is made from spectra, which melts at pretty low temps. Not typically a problem, but it could be problematic if Titan was used as a fixed sling with rap rings or as a prussik. In either case repeated rope-cord friction could heat rap rings or rope-cord contact could burn and damage the Titan cord. The stiffness just makes tying knots more compicated than with normal cord, also makes it a bad prussik, other than that its just sorta anoying.
Cons: Expensive, low temperature tolerance (compared to other think cords), very stiff.