Maxim Tech Cord
Item Details
|
Reviews
(
3
)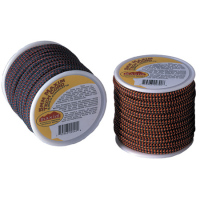 Description
TECH CORD: Originally designed for the militarys special forces, Tech Cord is the strongest and lightest cordellete or shock cord available. Made from superior Technora fibers, Tech Cord boasts a whopping 5000 lbs. tensile strength 50 percent stronger than Spectra and a melting point of 932 degrees F degrees compared to Kevlars melting point of 260 F degrees. Sold as a case or individual spools. This cord should be tied with a double fishermans knot.
3 Reviews
Strongest, light, less bulky, so expense worth it as only option
Review by: RJFerret, 2008-08-11
I needed to resling some older used Camalots and I was also starting to lead climb, so needed a cordolette solution. Maxim Tech Cord was the best option for both.

I found a website with an interesting reslinging plan, but it suggested using spectra/dyneema, which doesn't last as long as even nylon and isn't as strong as Technora in that size. Since I needed something small in diameter, Tech Cord is the perfect solution, able to hold 5,000 pounds.

In my research of Technora and Tech Cord, I learned of others using it as cordolette, it's less bulky than 7mm cord, lays flatter hanging from the harness, and is easier to knot.

The only possible down side, which doesn't bother me at all, is it's stiff. Almost like a soft wire.

Lastly, I didn't do the conversion, other places suggest the 6 meters is about 20', which I know isn't true, but when I uncoiled it, it was closer to 18' than 19.6' (the later being 6m).

So both lengths I got were immediately put to use and have seen a half dozen trips and I've been pleased. My second is happy with how easy it is to clean the cams (no additional slings), I would be happier with a couple more meters length on the piece used as cordolette.

But to get that, you'd have to buy a 100' coil and cut it down, which would cost over $100 and would have left me with about $50 of unused material instead of spending $40ish for two 6m coils. Maybe split the cost with a partner?

So I don't regret choosing two 6m coils and have been recommending Tech Cord to all my climbing peeps as well as showing it to non-climbers as something that tiny yet that strong is just amazing.

-Randy


Review
Review by: romain, 2004-08-11
No text provided
Review
Review by: climbinginchico, 2004-07-30
I love my Tech Cord. Much lighter and stronger than a 7mm cordolette. Great for equalizing anchors and such. Be sure to use a triple fisherman knot to join the ends as the cord is more slippery than most.