Joker 9.1mm Dry Cover Rope
Item Details
|
Reviews
(
1
)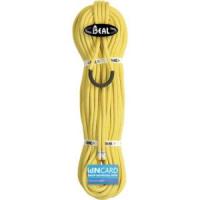 Manufacturer:
Beal



This item may be available at:
Description
As the only rope in the world certified as a single, half, and twin rope, the Beal Joker 9.1mm Rope gives you complete versatility for everything from sketchy ice pitches to sport testpieces to snowy ridge climbs. Its ultra-thin diameter gives it a low overall weight, and the Dry Cover treatment stops the rope from absorbing water and freezing in the mountains and enhances durability for multiple days at the crags. Tie into the Joker, and climb any route, in any conditions.
1 Review
I love it
Review by: courtright, 2009-01-19
Bought a 70m Joker (drycover) off ems.com during their Christmas sales. I love this thing. For the extra 10m I get over my Mammut Eiger, it still comes in at 70g lighter. Hardly noticeable, but still, can't argue with that. It's allowed me to link together pitches on a couple climbs now and do raps with only one rope instead of carrying up another solely for rapping. It hasn't taken a fall yet and I'm only using it where one is unlikely since it's not rated to take as many falls as a fatter cord. As for feeding, I use a BD ATC guide with this rope and it feeds smoothly through the device. My partner was using the standard ATC and had no complaints either. In the event of a fall though, I'd imagine it would have had less friction than the atc guide would have. It coils and flakes easily as well. Hopefully with some love, this thing will last me several seasons out here in the west. Highly recommend you buying this rope, try to find it on sale though.