10.1 mm Marathon Pro Dynamic Rope
popular
Item Details
|
Reviews
(
9
)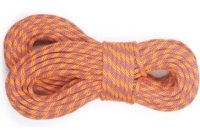 Manufacturer:
Sterling



This item may be available at:
Description
The 10.1 Marathon Pro Dynamic Rope by Sterling Ropes is considered by the outdoor industry and climbers alike, to be one of the most technically advanced ropes in the world. Quite a statement really, but when you break it down and look at their innovative braiding and hardcore sheath technology, as well as a lightweight body and incredibly easy handling, you just might agree. Every climber has to have two top quality things when setting off on a route, a good solid rope and and even better belayer. You have to take care of your partner, Sterling takes care of the rope for you. These ropes come in two different lengths - 60m and 70m.
9 Reviews

Write your own Review


Read all 9 reviews
.
Review by: cuchulainn1856, 2013-02-27
Had one in a single pattern for about 5 years and shredded it, used it probably 1-4 times a week on a variety of different rock types. Bought another in bi-pattern 2 year ago and it has been my go to for every outing. Also own an Edelweiss in the same diameter but it usually ends up sitting in the gear closet
Dry treatment is extremely slick when new
Review by: tigerlilly, 2009-01-07
Slicker than bare boot soles on wet ice! So slick on the first outing my partner had to use an extra biner for more friction to lower me, and I'm a flyweight. Fortunately, it gets better with a little use, but still remains water resistant. Had it out on ice last weekend, and while others' dry ropes were getting ice on the sheath, my Marathon was fine. Very supple right out of the package. Feeds well, knots easily and doesn't kink up. I have fewer than a dozen outings with it, so I can't comment about longevity, but so far it's been delightful.
AWESOME!
Review by: doyleld23, 2007-02-25
This rope is amazing. It flows through your ATC and biners so well! When I first used the rope it had so much give to it, but the more I climbed on it the better it got. My rope is bicolored as well. I would strongly encourage getting your rope bicolored. You'll be glad you did. Have fun!
Review
Review by: omegaprime, 2006-08-02
My second rope, the first being Beal Top Gun. Overall a good rope, but didn't give it a 5 due to the fact that the catch wasn't as smooth as Beal. I distinctively remember noticing the catch the first time I fell on it, while on the Beal I never noticed when the rope arrests my fall.
Review
Review by: leewee, 2006-01-25
i got the 10.1 in a non-dry 60m and i liked it so much i ordered a 70m dry for ice season...i belive this is my favorite rope ive used, and ive used many... give it a try...(one down side i must admit to is that the dry treatment was very slippery the first day or two but after a few days it was perfect, so i didnt feel i needed to score it down for that)