10.2 Spire
Item Details
|
Reviews
(
3
)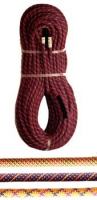 Manufacturer:
Other



This item may be available at:
Description
Color: Coral Mix. Features available: ULTRADRY Weight (per meter): 66g UIAA Falls Held: 11 Impact Force (kN): 8.3 Elongation at 1st Fall (New Method): 35 Avg (0%) Static Elongation (Old Method): 8 (%) Sheath Slippage: 0 (%)
3 Reviews
Good So Far
Review by: bmwman91, 2007-11-27
This was my first rope. I have the light green/blue weave sheath with the dual-pattern (additional $50), and am happy so far. It remained somewhat stiff for the first 4 or 5 used, but it is now very smooth to handle. I have not seen any appreciable fuzzing, either.

The first couple falls were hair-raising, but after that the rope was done with its initial stretching. Now it is about as comfy as you can get in a fall. So far it has been a sound investment, although I have yet to own another rope.
Review
Review by: ja1484, 2006-10-15
A bit of a stiff hand out of the box, but once it was climbed on a for a good weekend and washed afterwards, it broke right in and now handles like a dream. Very durable too - I've only had minor sheath fuzzing, and this rope has been through some rough rock. Only complaint is no middle marking or bi-pattern, but hey, you can't have everything on the cheap (picked it up on sale for about $110). I would also like to note the 11 fall rating from the UIAA - it's one of the strongest 10.2s out there.

Update: 18 months after writing this review, the rope is still kicking ass, with only 3 feet trimmed from one end. This is after ~2 years of 2-6 times/month climbing of all types - toproping, sport doggin', long trad, you name it...to say the least I am impressed with its durability. Aside from a little sheath fuzz and dirt, still handles like a new rope.
Review
Review by: superbum, 2005-09-19
My first rope purchase...served me well at first. It started to Fuzz out really soon and now it feels and looks more like a 10.5 mm. Very soft hand too.