10.5 mm Eiger Dynamic Rope
Item Details
|
Reviews
(
8
)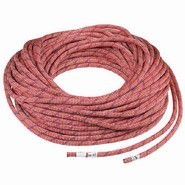 Manufacturer:
Mammut



This item may be available at:
Description
The 10.5mm Eiger Rope by Mammut is a thick, solid rope that fairs well in alpine, or trad situations with its beefy diameter and smooth handling when gliding over stone. The 10mm Passion Rope offers unprecedented success in minimizing rope drag, absorption of less dirt and is super easy to handle due to Mammuts Coating Finish process. This process coats Teflon on the ropes individual strands in order reduce friction between the rope strands, allowing the load to be equally distributed creating a safer fall. Mammut has been making ropes since the early 1800s, so they know what is important, that is why every single rope has a friction resistant, colored, middle marking, helping you to find the center of your rope, which can keep your climbing trip from being an epic.
8 Reviews

Write your own Review


Read all 8 reviews
Dependable
Review by: PatMcGinn, 2009-06-29
Not my first rope, but something to beat the crap out of when working routes. Sturdy, dependable and feeds well. As far as handling goes it handles well and feeds nicely. If you want a dependable rope you can beat the heck out of this is excellent.
hmm
Review by: palidon11, 2008-04-10
no complaints. its my first rope, still in good shape after a short season last summer.
pretty good
Review by: deadhorse, 2007-05-24
I'm replacing it now after a substantial year worth, with lots of rock-drag TR routes. always a soft catch. more static elongation than i would prefer. fuzzes pretty easily. gets dirty. knots OK. provides tons of friction in BRD's. makes lowering light climbers/drag routes overly slow. never have to worry about not catching the fall though. i'm going DRY and thinner this time around.
Versatile workhorse
Review by: deadhorse, 2007-03-13
This rope is nice, I've had it for about a year, and I'm going to have to buy a new one this summer, but it's seen ALOT of action. It feeds well, and has a very grippy sheath, always held my prussiks, ATC, gri gri well. stains easily and picks up dirt like whoa. Pretty soft catches though. It knots well but it doesn't handle exceptionally well clipping, although at this size you shouldn't expect that. Great value. I've had a few headaches over how easily it kinks/tangles, which is probably fueled by its lack of coating. Not the best abrasion resistance, but again, it doesn't have a coat so it shouldn't. Never let me down to hard.
disappointing
Review by: carlrocksalot, 2007-03-10
My girlfriend bought me this rope last xmas... my first rope. I took it climbing at a local quarry, and it got diry and hasn't come clean since! It became extraordinarly stiff quickly, and I won't use it on lead anymore. Tough to flake now after only a year of moderate climbing.

I was really surprised as I really trust the name of Mammut, maybe I just got a bad rope? This is my first rope but my friend's rope who were bought at the same time or before all are in much better condition. I take very good care of my gear and washed it only once with mild detergent.