9.5 mm Infinity Dynamic Rope
Item Details
|
Reviews
(
5
)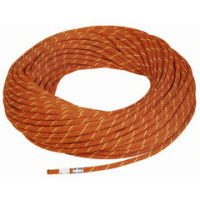 Manufacturer:
Mammut



This item may be available at:
Description
The Infinity Rope by Mammut is an extremely light single rope with a very small diameter. It offers the best performance and durability due to the Superdry Finish. It also features Triosafe for added security rapelling and lowering.The Infinity Rope is part of Mammuts Challenge Line series. These ropes feature innovative technology at the highest level for moments where every gram counts. Challenge Line ropes combine minimal weight and diameter with reassuring strength and perfect handling. Every rope comes with the Superdry Finish, a Telfon coating from Mammuts research laboratory that improves durability. They are incredibly supple to handle, run almost friction-free over rock and absorb substantially less dirt.The Infinity Ropes optimal uses are on-sight and red point climbing, super-light alpine ascents, and difficult alpine tours when every grams counts.
5 Reviews
Great Rope!
Review by: laroers, 2012-01-29
I have a 60 for outdoor and am pondering cutting a 70 in half for the gym. The 60 is pretty easy to get to the gym, but I'm on a motorcycle. So, every little bit of weight and bulk savings counts. This rope seems to stay cleaner longer than others I've tried. It's also silky and soft. It breaks in nicely and doesn't have much tendency to pigtail. I use it with a Petzl Verso (on high friction, obviously) and a Trango Cinch. I've also used it with a friend's Gri-Gri 2 which was good, but the Cinch is smoother.
Great Rope, have the 70m version
Review by: redlude97, 2010-04-19
Just purchased this rope this season after climbing on a mammut supersafe 10.2 last season. Wanted something lighter, skinnier but with the same great feel and durability that is associated with Mammut. Only used it a handful of times but taken a couple of lead falls onto it including a fall onto the first bolt of a climb and that catch was surprising soft. Can't comment on the durability much yet, but the sheath looks new without much fraying yet and the rope hasn't kinked or flatted in any spots either. Great so far and if it hold up like the supersafe it should last me a while, my new favorite rope!
Review
Review by: griffin, 2006-08-13
Sick rope. I'm totally psyched with this thing. 2 seasons of rock and 1 of ice and it's still cranking. Light, strong, and not the usual bungy cord performance of a skinny line. Lower dynamic and static elongations make it better to throw an occaisional TR off of, though it's paid for with higher loading in the event of a fall. The triosafe is great, and I can still sort of see mine. They wear rough so manicured (wimpy) hands beware Next one will be duodess though. Get one and enjoy it!
Review
Review by: sbaclimber, 2005-01-04
I am now on my second of these ropes, and am so greatful for how light they are. My 1st was a 'classic', which I found a bit sticky feeling and stiff when new. My 2nd is a super-dry trio-safe, and is an absolute handling dream!
Review
Review by: rockn_j, 2004-07-13
This rope is aimed at the more weight-conshious among us, and that is exactly why I love it. It is a bit stiffer than the beal Top Gun, but still handles nicely. I bought a 60M for multipitch sport and I feel that is probably what it is most suited to, but it does hold up well to abrasion so it ought to do well on light hard trad too.