Ally Rope 10.3MM x 50M, 60M and 70M
Item Details
|
Reviews
(
2
)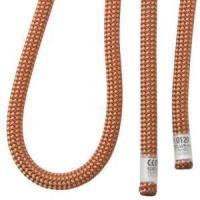 Manufacturer:
Edelweiss



This item may be available at:
Description
At 10.3mm, the Edelweiss Ally Single Rope gives users a versatile balance between weight and durability, so you can use it for working a sport climb or a long trad route. The Ally Rope wont make you feel like you have a tug-boat rope tied to your harness when you gun for the anchors on your project, and it wont wear out after a couple months of hard climbing. Edelweiss created this line for climbers who need one rope to take on all their trips.
2 Reviews
GREAT PRICE!!!
Review by: HanSolo1991, 2011-03-28
I've been climbing for about 2 years now and I wanted to quit using my buddy's rope so I was looking for the right rope for the right price. I found my 60m Ally online on some close out price for $90, over 50% off the store price. I was skeptical at first but after consulting a few friends I went ahead and bought it.

When it arrived I unraveled it checking for correct length as well as any defects and everything was perfect. It feels stiffer than most ropes I've used and is a little heavy but honestly, no complaints. It needs a little break in time before I can say much more but that price is hard to argue. The rope feels a bit slippery in the ATC right now but I'm confident that will go away once the rope breaks in. I haven't used my grigri with it yet but ill post an update in a few weeks.

All-in-all, if you can find it on sale like I did, buy it. It may not be the best rope on the market but its very durable and worth the money.
Edelweiss Ally
Review by: kimbill, 2009-01-19
I bought the Ally because the other Edelweiss ropes that I have owned have been very durable. That is important to me because I climb on sharp, abrasive limestone, and ropes from other manufacturers haven't lasted as long. Since I climb in the desert, the Ally's lack of a dry coating wasn't a problem. Finally, the Ally is one of the least expensive ropes on the market, always an attraction, especially since I go through a couple every year.

I have used the Ally for three months now, and I can say that I won't buy another one. The main problem for me is that it is difficult to feed. I often use a Gri-Gri as a belay device, and I find it much harder to pull out slack with the Ally than any other rope I've used. It is so difficult to feed that I wondered if the diameter was bigger than it was supposed to be, but it measured at 10.2/10.3, as it should.

It is also quite stiff and seems to be heavier than it actually is. Contrary to the advertisement, it DOES tend to feel like you have a tugboat hawser attached to your harness!

On the plus side, it is very abrasion resistant. In the future, I will use the Ally primarily for bolting new routes, where toughness is more important than ease of use.