Apollo II 11mm DryCoVer
Item Details
|
Reviews
(
2
)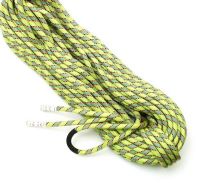 Manufacturer:
Beal



This item may be available at:
Description
The toughest of the tough. The Apollo has a BEAL guarantee of 16 falls, making this an awesome choice for difficult routes where repeated falls are requisite for success. The Apollo's smooth flow through carabiners and over rock makes handling easy and clipping a breeze. If you own a guide service or are just starting to climb, this should be your rope of choice. Passes the 0.75 mm edge test.
2 Reviews
Reassuring Rope
Review by: domu888, 2007-06-01
Great rope for anybody requiring assurance, beginners or monster rack bearers. Thick, chunky and keeps going. I will be buying a second rope soon and yet another of these ropes is a hot contender for my money. The 11mm width is very reassuring in a grigri, especially when all you can hear is your belayer trying to pick up the girl at the next belay station. Only downside is the weight, but what would expect from such a workhorse.
Review
Review by: cbare, 2004-09-21
Strong, durable, and easy to climb, rappel, and tie knots on. The dry coting ads even more durability. This is the best rope I own. (I thought it would be hard for anything to beat Blue Water's 11mm Enduro, but I was wrong) If you only have money for one rope, or can only carry one rope, this is for you.