Dominator 9.4 mm Rope
Item Details
|
Reviews
(
3
)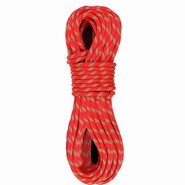 Description
The Bluewater Dominator is an ultralight single rope that is also certified for use as a half rope if your route calls for it. Extremely versatile, the Dominator is great for sending routeside projects or for long single-push alpine climbs when you are bringing a tag line for raps. 60 meter length comes in Red/Red Orange and the 70 meter length comes in Sprout/Black. A free rope bag is included with each rope. Bluewater Dominator Specifications: Diameter: 9.4 mmWeight: 55 g/mUIAA Falls: Single 7 Half 16 Impact Force: Single 8.29 kN Half 6.61 kNDynamic Elongation: 32Sheath Slippage: 0 mm
3 Reviews
Review
Review by: kikibatlubbin, 2006-10-02
I bought a short rope 9.4 dominator from GearExpress to play with, thinking it would be easier to carry and easier to use with leading. The rope handles wonderfully, is light, and packs into almost nothing. I like it so much that I bought another and now use two shorties for most climbs (nothing high around Devil's Lake, WI). When I get rich, I'll go for a 70m 9.4.
Review
Review by: bandidopeco, 2005-06-06
A very light and easy to handle rope. The only things i've seen are that it tends to twist very easily and that it's sheath frays quicker then other ropes i've used.
Review
Review by: theakeidah, 2004-06-03
So far I have had great luch with Blue Water and this rope in particular. Doesn't tangle and knot up like some others.