Edlinger 10.2 Standard Rope
Item Details
|
Reviews
(
2
)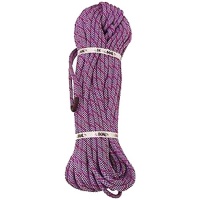 Manufacturer:
Beal



This item may be available at:
Description
With easy handling, a moderate diameter, and durable Beal construction, the Edlinger 10.2mm Rope is the perfect option for those looking for a top-roping cord or an all-around rope for sport and trad routes. At 10.2mm, you get the long life of a traditional fat rope with the weight savings of new school skinny cords.
2 Reviews
Great All Round Rope
Review by: mikebee, 2008-05-30
This is the only rope in the Beal range that isn't dry treated, which is why it comes in at a lower price than anything else. Other than that, this rope is Beal all the way.
Great handling, easy running and a pleasure to use.

I own the 50m version and have had it for 6 months so far. It's been used for a bunch of TR and trad, and the sheath is only looking to be a little worn in a few small places.

I reckon that if you're after a rope that does a bit of everything, this is the way to go. Not super heavy like a 10.5mm, more durable than a >10mm rope. An absolute steal for the price (well, in Australia anyway).
Review
Review by: threefox, 2006-07-22
This is a mirror of my Beal Flyer and I love it.