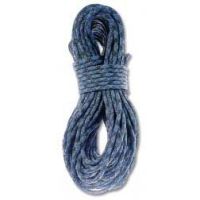 Description
If you need a tough rope with great specs, the Enduro™ is it! A UIAA fall rating of 16 falls with a weight of only 77 grams per meter makes this the perfect rope for Big Walls, guiding, programs or other classes.
11mm dynamic climbing rope
16 fall certification
no sheath slippage
sharp edge resistant certified
Blue water's strongest dynamic rope
2 Reviews
Mule Rope
Review by: AuburnRocks, 2007-04-12
The Enduro was my first rope. Four years later, it's still in rotation, and commonly so. The sheer durability of this rope has made it worth the coin.

The Enduro like any other rope has it's where's and why's. It's features are strong in some places, and a hinderence in others.

Where's - Anwhere you want a rope that will last, the Enduro is on point. Also anywhere where rope wieght is of little concern, such as any top-rope route. If you only top-rope, lighter daintier cords are going to lighten your wallet more than your climb.

Why's - Any light-pursed newcommer is going to find this rope a nice fit. It will take the abuse you dish out while learning your do's and don'ts.
Another bright point for beginners is the ropes girth. The large diameter makes holding a fall by the belayer much easier, since the 11mm generally maxes out the max. width for most belay devices and the added friction gives the brake hand relief from the stress of having to pull hard to keep the rope from slipping (it should be noted that this aspect can also cause poor belaying habits; and if a slimmer cord is gone to after the Enuro, you must be ready for the change in rope attitude.) I once lowered my partner off a top-rope route with just one finger on the rope as it went through an ATC-XP, but that's retarded and he was talking smack about Justin Timberlake, so it was justified.
Review
Review by: cbare, 2004-09-18
Nearly the strongest and most durable dynamic rope I have ever used. Beal's Apollo 11mm wins for durability with it's dry coting, however, the Enduro comes in 70meter length. A little on the heavy side, but should be the standard for someone who wants durability in a product. A great top rope for beginners.