Evolution Kosmos 10.2mm Rope
Item Details
|
Reviews
(
2
)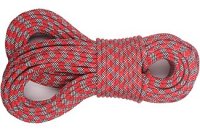 Manufacturer:
Sterling



This item may be available at:
Description
The rope with 9 lives. Time tells you to retire the rope, but the rope tells you it still has more life left. Having to retire this rope is always a painful process. It has been your friend, winters in Patagonia, springtime in Joshua Tree, and summers in Rifle. At 10.2mm it looks, feels, and performs better than ropes half its size. The Kosmos will continue to lead the way and go where few have gone before.
2 Reviews
Review
Review by: p0bray01, 2005-11-05
Great Rope. Love the color difference at half way. This really lets me know where I am with rope usage. This thing can hold some falls! I am a 200 lb'er and took a 25 foot whip....twice....I love this baby....soft catch strong hold. Solid Feel. Not too heavy either, about 12 lbs? I don't mind the weight because I know I have a solid rope tied to me.
Review
Review by: z_rock90, 2005-10-02
This is a great rope. I use it for sport and Top rope. I like how stiff it is and how easy it is to clip.