Flyer II 10.2mm Golden Dry Rope
Item Details
|
Reviews
(
5
)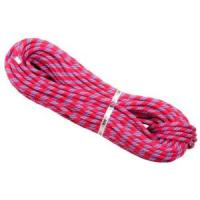 Manufacturer:
Beal



Available now at:
Description
With a diameter that bridges the gap between traditional ropes and new-school skinny ropes, the Beal Flyer II 10.2mm Rope gives you versatile performance thats just as useful at the sport crag as it is on an alpine ice route. Beals Golden Dry treatment adds a protective coating to both the core and the sheath to avoid water absorption and freezing on ice or alpine climbs, and slows down wear and tear, drastically increasing the ropes life expectancy.
5 Reviews
Great cord.
Review by: alpinestyle, 2007-03-19
The high static elongation is superb when climbing routes with marginal gear. Thin climbs in Eldorado Canyon are the ideal realm of this type of rope. Clips good and works equally well with active and passive belay devices. Down side is the first fall on it new is pretty long and the sheath does show wear fairly rapidly. Mine lasted a year of heavy use. Would buy again.
Review
Review by: carl_mogensen, 2006-05-29
Good rope - quite slick to start with - especially the GoldenDry. Lasts long. You could do much worse... there are many ropes out there which are heavier. This one has a good balance between strength and weight. 60m is very handy... takes a while to coil though!
Review
Review by: jankymutt, 2006-05-17
Awesome rope!! Great coating. Cool colors. It has been very durable after numerous falls. My buddy has had his for a year and it's still holding up fine.
Review
Review by: closetothesun, 2006-03-17
This is a good rope, handles well is fairly light and has held up over time. The only problem I have ever had with it was when my partner took a wipper with a slightly loose figure8 and the rope in the knot fused, which was spooky, other than that no complaints.
Review
Review by: heximp, 2006-03-09
am a very happy climber because of this rope. I love how the Flyer is versatile since I do various styles of climbing. I have used it for mountaineering and trad.
The Flyer is belay friendly, offers little slippage and show remarkable durability. I can honestly say that my rope still can be mistaken for new despite this heavy use.
It is also a beautiful rope. I own the blue and it looks like a soft blue/gray. The color is calming and yet it still stands out against the rocks.

Overall, I highly recommend the Flyer II for anyone interested in owning an all around rope.