Galaxy SuperDry Rope 10 mm
Item Details
|
Reviews
(
4
)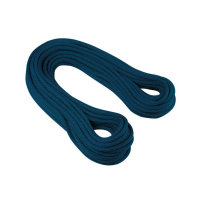 Manufacturer:
Mammut



This item may be available at:
Description
The Mammut Galaxy SuperDry Rope takes a classic Mammut workhorse rope and gives one of the best dry treatments in the industry. The Galaxy is a great cragging rope and will let you work yourself days on end without showing any strain. The dry treatment makes the handling even smoother and more responsive. Suitable for: Training/Workout Climbing, Toprope Climbing Galaxy Superdry Rope Featuers: 40 clappers Core with 12 inlays Most durable 10 mm rope Very compact rope construction One of the classics of the Mammut ropes Specifications: UIAA-falls 1 strand 80 kg: 7-8 Weight in g/m: 66 Sheat slippage in mm: 0 Impact force in kN: 9,2 Elongation with 80kg per cent: 7 Elongation at 1st drop fall: 30 Proportion of sheath per cent: 36
4 Reviews
Review
Review by: grog, 2004-11-01
Overall a pretty good rope for this price (they call it the Supernova in Canada). Great for sport redpoints, nice and light, but I found it fuzzed up kinda quickly, although the performance is the same. Wouldn't recommend it for lots of toproping though. I wish it still came without a ropebag for $139 Canadian.
Review
Review by: reprieve, 2004-09-08
This rope has treated me well. The kinks went away farily quickly, however this rope seems to really dislike Arkansas humidity in July. I also would like something a little thicker, and a dry treatment would be nice, but it's a stellar rope for the price. And I'd take it any day over a Blue Water!
Review
Review by: sustainedclimber, 2004-08-20
I bought this rope earlier this summer, and after climbing on it about 2 days the kinks were gone. For the price I would endorse it whole-heartedly and I love having a rope bag. I wish it was a little thicker, but I've gotten used to the width, and again for the price, if I get a year less than a wider one, it's still worth the money. I can't give it a 5 because 5 is perfect.
Review
Review by: nthusiastj, 2004-04-28
This rope SUCKS! It still kinks up badly after almost 2 years. Buy something better!