Laser Rope 9.6mm x 50,60 70m
Item Details
|
Reviews
(
6
)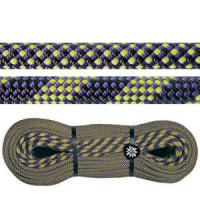 Manufacturer:
Edelweiss



This item may be available at:
Description
Looking for the elegant handling and durability of an Edelweiss rope but also need to shave off weight to send your project? The Laser Arc 9.6mm is the ultimate smooth-handling, lightweight solution. At 61g/m it isnt the lightest rope in its class but with the Edelweiss Perdur and EverDry coatings it is certainly one of the most durable. In tests, Perdur was shown to increase a ropes abrasion resistance by up to 33, and when youre talking about an ultra-thin line like this, safety and durability should definitely be a concern. Edelweiss Arc sheath weave scores additional safety points by creating two distinct patterns, one on each end of the rope, to make it easy for you and your belayer to identify the mid-point of the rope for lowering and to alternate tie-in ends. Comes in 60m and 70m lengths.
6 Reviews

Write your own Review


Read all 6 reviews
Finally retiring my Laser ARC
Review by: dr_monkey, 2009-05-25
I bought this rope cheap, on a whim, years ago just when Edelweiss began to be available in the US. It has been my go-to rope for multi-pitch trad and alpine climbing for so long it's hard to let it go. I've worn out two other ropes while I've had it, and the sheath is still in decent shape. Long lasting, great handling, light, and tough. Only complaint is that it just doesn't seem to pack down very small in a pack compared to other ropes of this size.
Review
Review by: forkliftdaddy, 2005-04-12
I bought a dry one of these for trad climbing. The rope is a bit fatter than and doesn't stretch as much as I expected -- maybe I just got spoiled by my PMI. All in all, though, this is a very good rope. The sheath seems pretty darn tough AND SLICK. Watch belaying, rappeling, and lowering.
Review
Review by: frantik, 2004-06-04
I have the bi-pattern and like it alot. Purchesed for long trad climbs and as a light second rope. The bright color is like dayglow. It can feel a little stiff at times but that shows its quality and is less likely to kink up. I found it great for lead belays and had no problems arresting myself on rappel or a falling climber with it.
Review
Review by: holmeslovesguinness, 2004-06-01
This is my second Edelweiss rope (I bought the Anniversary 10.5 a little over a year ago) and I have nothing bad to say about it so far. As with the Anniversary rope, the Laser seems like a very good value. I actually spent a little more and got the bi-pattern version (the Laser ARC) and am using it primarily for multi-pitch trad routes. It handles quite nicely, and I haven't had any problems with it slipping while belaying or rappelling (with a Reverso).
Review
Review by: shogun, 2004-04-17
my first rope, i opted for the lightweight and slightly thinner rope. tends to slip through belay device easily - great for belaying the leader, but requires a lot of pressure when stopping a fall. not bad for $119.